Durability, protection, and comfort are critical when shopping for kids' T-shirts. That's why the Cotton Toddler T-Shirt is the best choice for family, printers, and retailers alike. This soft lightweight t-shirt is a comfortable one. It's the right t-shirt to introduce the kids to your special event.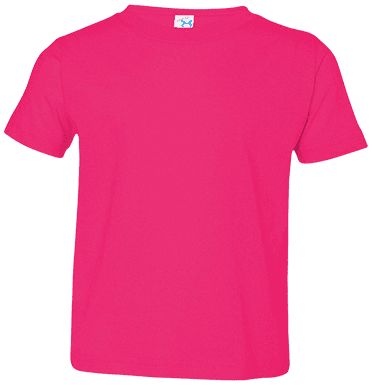 Rabbit Skins is one of the world's top brands of toddler sportswear. The thinnest, smoothest tee you have ever experienced is available now in various sizes. It is perfect for playing or anywhere. These blank tees may be designed, decorated, customized, or simply used as t-shirts. A side seam tracking mark that preserves important safety details.
Shoulder-to-shoulder taping provides protection and fabric cover for additional comfort. It also gives strengthening and smoothing of the double-needle hem sleeves and bottom. With that dress, your little one can do whatever she needs. It can be cleaned and ready for the next adventure. Without stretching or losing form, the ribbed crew neck may be pulled off as many times as you need. If you select a shirt to help your kids create a stylish masterpiece at home or a hundred shirts to add your work.
The item is a "modern style" with a more casual appearance. It has slim-fitting sleeves and appropriate length. It is not too narrow or too loosely designed to fit. A classic cut that takes the body shape to make easy for movement. Find a shirt of your kids with your favourite name, image, logo, or text.
Professional designers and state-of-the-art printing technology Direct to Garment (DTG) would carefully print your design. Design toddler's tee shirts for kids are also an outstanding way to personalize their outfit by displaying their favourite graphics artwork. It gives you coloring options, sizes at an affordable price. 46 creatively designed colors are available to help you pick as a backdrop. Pick today any of these Toddler Short Sleeve T-shirts and save more money.
Customized toddler t-shirts are the perfect way to give a unique gift to someone special. Starting from scratch to design your family shirt, funny t-shirts, cool t-shirts, concert tees, college shirts, or several other special occasions.
Personalized t-shirts for boys and girls are the ideal choice for children to wear their sportswear in schools, colleges, or universities. 100% assured, we trust our goods and price with Tee Miracle. We stand with pride and trust behind every item.
A 100% cotton T-shirt comfortable sufficiently to enjoy your kid. Ribbed crew neck taping with double-needle sleeves and bottom hem edge. These tees are comfortable yet durable and meet the demands for playtime. The CPSIA compliant tracking label on the side seam provides important safety details for potential reference. It can be cleaned and ready for the next adventure.
Taping from shoulder to shoulder provides protection and covers seams for extra support. Without stretching or losing form, the ribbed crew neck can be taken off as much as you like. Expansive and unique selection. A variety of extending colors and prints, comfortable and durable fabrics, and an excellent look and feel are emphasized. There is an outstanding printability.
At the major event in your custom t-shirts, the children will shine. Choose a brand, choose a color, and start to create this one. These specialized tees for children's birthdays, family gatherings, and more. In confidence for your child, you can pick Rabbit Skins.