Are you looking to personalize your little one's onesies? Are you searching for the perfect custom baby onesies for your baby or as gift? Do you often find yourself wishing you can design your own babies onesies to make his or her garments even more special? If your answer to these questions is a resounding, "Yes!" then your search is definitely over! Here at Lanesha, we are proud to announce that you will be able to find cheap custom onesies that are definitely unique, cute, comfortable, and highly durable.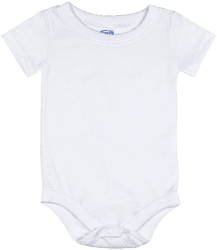 Lanesha is a store that allows you to very easily and conveniently create custom baby t shirts using your very own designs or the using any of the images in Lanesha's massive image gallery. If you are all new to this or gets saddened that you are not a tech savvy, then do not fret as Lanesha got you covered.
Lanesha is making use of a very easy to utilize system that even non-tech savvy individuals could learn effortlessly. This system offers you the ability to design any onesie garment available on Lanesha so that you can select the size, color, and style of the garment. Then, you will be guided to upload your own design or select from the image gallery handpicked by Lanesha. After that, you will also be able to add some texts, quotes, or funny one liners such as "I love my Mom!", "I love my Dad!", "My Auntie is the best!", and/or "Coolest Uncle ever!". Once everything is finalized and decided, you can opt to have your custom infant shirts done and delivered right at your very doorstep. It is that simple and easy!
Lanesha offers a wide array of infant shirts that includes but is not limited to onesies for 6-, 12-, or 24-month old babies, infant jersey bodysuits, and infant jersey t-shirts. There are also infant long sleeves bodysuits and toddler jersey t-shirts or toddler-shirts. Lanesha offers a ton of baby garment that you can personalized and customized. In addition, all of the baby garments provided by Lanesha are durable. They are made from high quality materials. Not only that, they are also all safe for your use by your precious little ones.
If you have your designs ready or are looking to practice designing first before ordering, try Lanesha's design system and create the perfect custom baby t shirts for your sweet little angel! Design some custom infant shirts today!