It's tattered, discolored, and have got many holes in it –but you are not yet ready to part with your favorite t-shirt. For many of us, these shirts are a reflection of ourselves and our opinions. You are so attached to the design of the shirt, you are afraid if you throw it, you are going to lose it forever.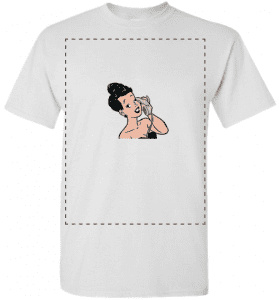 But did you know that you can print t-shirts from the comfort of your home? All you require for the process are inkjet printers, print transfer paper, and iron. And the best part is that it costs a lot less than what you might think. Today we will learn how to create custom funny t shirts all by yourself.
Creating a design of your choice
The first thing that you need at your arsenal is a brilliant design for the custom t shirt. You will find tons of funny shirt designs online or create something on your own. Using software like Photoshop or Adobe Illustrator can also help in preparing the image. It's worth noting here that your designs should be high-resolution. In case, you choose to craft the design from scratch, using vector images can save the image from becoming pixilated.
Prepare the T-shirt for the design
You must opt for a T-shirt that can be safely ironed and has a smooth and neatly woven texture. With this, you can rest assured that your selected design will easily stick to the T-shirt permanently. The best option for custom funny t shirts is using 100 percent cotton shirt and not experiment with a host of other fabrics. If you are using a new shirt, it's better to pre-wash it to rule out shrinkage.
Get the right transfer paper
Transfer paper are specifically designed for light and dark colored fabrics and you should be cautious to pick the transfer paper for your shirt. Also, you need to check whether the paper is compatible with your print. For instance, if you have inkjet printer, you should choose transfer papers made for the same. If these transfer papers are used on a laser printer, it can damage the printer.
Run a test print
Start the printing process on a regular printing paper to check whether it gives desired results. If required, you may have to adjust the settings to give best quality print. Now that your funny shirt designs and the suitable tshirt is ready, you can move ahead with the print.
If you have opted for a transfer paper for a light colored fabric, it's important to mirror the image. As you are satisfied with the final design, you may insert a sheet of transfer paper within the printer. Once the printing is complete, you have to handle the paper with caution. You have to wait for the design to be dry before you can iron the design on the surface of the shirt by applying heavy pressure.
Final words
Printing custom funny t shirts is exciting and fun but requires a lot of patience and caution. If you want to have quirky shirts sans the hassle of printing, you can check some amazing and funny shirt designs at lanesha and order online.